Our Range of Facial Treatments
Our Professional treatments are designed to give you your best skin ever. Our range of facials combines clinical strength ingredients with the skin rejuvenating and Hydrating technology including UltraSonophoresis, Microdermabrasion, High Frequency and Massage to treat key skin concerns. Our facial can be customised to suit your skin needs.
Chez Femme Signature Facial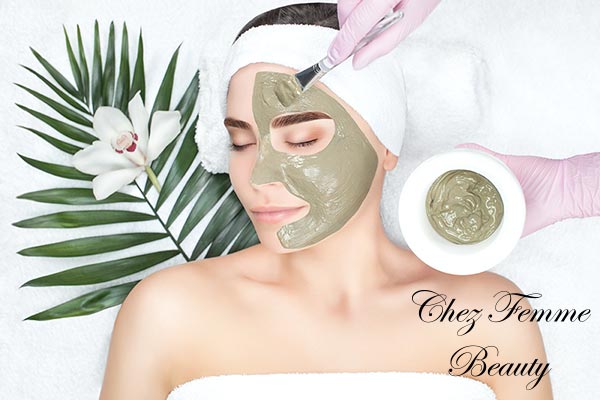 Deluxe Aromatherapy Facial: for all skin types (1h) ..……. $130
Indulgent for your mind, body and skin. This treatment allows customised essential oils to feed into the skin for skin concerns and target treatment. Treatment includes a facial massage with a powerful healing mask- infused with customised essential oils to suit your skin conditions.
Ultraceutical Signature Facial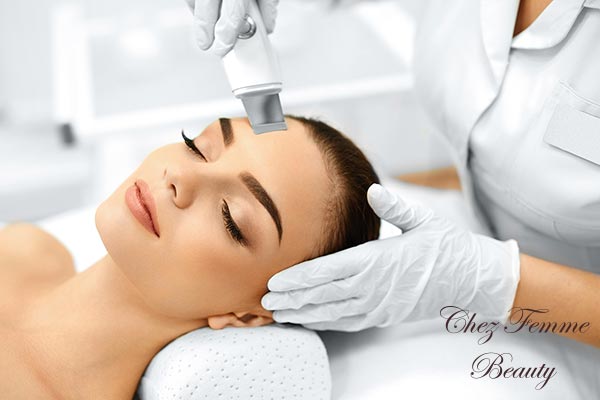 The Power of UltraSonophoresis
All Ultraceuticals treatments incorporate the powerful UltraSonophoresis (Infusion) technology. UltraSonophoresis utilises low frequency ultrasound to increase transdermal penetration of various ingredients up to 1,000 times than that achieved with other application methods. Our signature facial treatments integrate a Vitamin infusion to boost penetration of potent ingredients deeper into the skin.
CLARITY Facial: acne, congestion or oily skin (with extractions or High Frequency treatment) (75min)
$ 140
This deep cleansing treatment incorporates BHA potent antioxidants to penetrate deep into the pores to clear congestion. Works to help soothe inflamed skin, help control excessive oiliness, mattify the complexion and minimise future breakouts.
---
HYDRATE Facial: dehydrated, stress and dry skin (1h)
$130
Works to visibly remove stressed & dehydrated skin, this essential moisture boost treatment balances & restores skin's natural hydration levels. Features Ultraceuticals' Vitamin B² moisturising complex (Provitamin B5 & Vitamin B3) to visibly nourish skin & plump fine lines & wrinkles.
---
RADIANCE Facial: pigmentation or uneven skin tone (1h)
$ 135
This multi-action facial visibly reduces the appearance of pigmentation, uneven skin tone & dark spots. A powerful combination of 5 hyperpigmentation blockers, skin brighteners & exfoliants to synergistically restore skin luminosity & radiance.
---
SUPER DELUXE REJUVENATE Facial: signs of ageing, premature or mature skin (1h)
$135
Featuring our anti-ageing powerhouse ingredients Vitamin A, Vitamin C or AHAs & BHA, this treatment combines pure indulgence with skin rejuvenation. Actively works to reverse the visible signs of ageing by perfecting & refining the skin's overall appearance.
---
Skin Workouts /Skin Peels
Skin workout treatments (often referred to as skin peels) aim to rejuvenate skin through accelerated exfoliation. These treatments have been developed to quickly refresh and restore skins youthful appearance.
CLARITY: Vita-CLEAR/Mandelic Acid Peel (45min)
$ 120
This Mandelic Acid Peel utilises AHAs to quickly decongest, clarify & help control oil production. With proven anti-inflammatory ingredient Niacinamide & potent antioxidant Clove Oil, this peel improves surface congestion & helps soothe skin inflammation.
---
HYDRATE: Vita-REPAIR Lactic Acid Peel (45min)
$ 120
Reveal refreshed, youthful, radiant skin in just one treatment. This high-powered Lactic Acid Peel delivers fast results & actively works to resurface & improve skin's moisture levels while restoring clarity & luminosity.
---
REJUVENATE: A-Zyme Peel
$ 170
The powerhouse of all anti-ageing treatments. This fast-acting non invasive rejuvenation treatment combines proven anti-ageing ingredients Retinol & Bromelain to refresh, refine, hydrate & plump the skin. Works quickly, to dramatically diminish the appearance of fine lines & wrinkles, even skin tone & improve overall skin luminosity.
Paramedical Treatments
Performed by highly trained clinicians these treatments provide remarkable regenerative effects on the skin and allow for maximum results.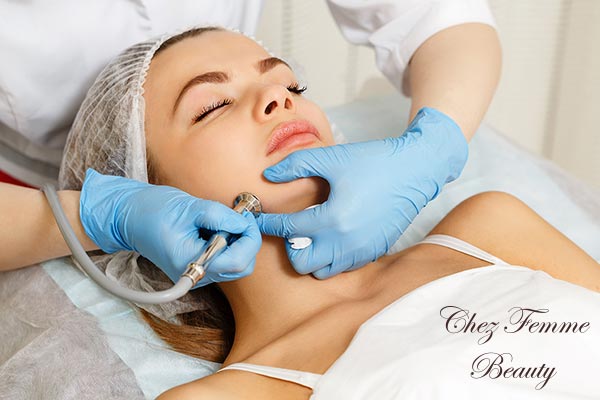 MICRODERMABRASION TREATMENTS
(Exfoliating Treatments)
Microdermabrasion is an advanced technique to exfoliate the skin. This treatment removes dead skin cells leaving the skin looking more radian and youthful. Microdermabrasion on the face improves the overall look, feel , texture and tone of the skin and helps products penetrate more easily.
CLARITY: Vita-Brasion Microdermabrasion: (70min)
$140
Total skin treatment incorporating deep exfoliation & Vitamin infusion (Ultra sonophoresis) of potent anti-ageing & antioxidant Vitamin A & C to refine, smooth & plump the complexion.
---
RADIANCE PLUS+: Hyperpigmentation/Brighter Exfoliation Mask (45min)
$ 125
This radiance-boosting mask combines a powerful blend of 6 brightening agents to rapidly reduce the appearance of hyperpigmentation, dark spots & blotchiness to instantly reveal a luminous complexion.
---
*Upgrade with an Ultra Vita-Eye Rejuvenating Booster with any facial treatments for $30.